Biography
He has been making his translations
from French and his books his pillow.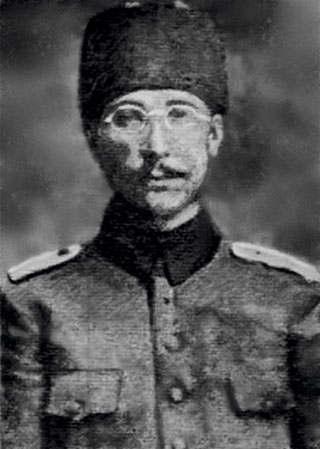 Lieutenant Mehmet Fevzi Efendi was born in Bigadiç in 1891. After Bursa Military High School, he graduated from Istanbul War Academy in 1912 as ranking second. He passed exam for staff officer. But just after he joined the 1st Balkan War. Lieutenant Mehmet Fevzi Efendi was appointed to 2nd Company, 1st Battalion, 38th Regiment, 13th Division, 5th Selanik Army Corps of the Vardar Army. He was captured as prisoner, taken to Korfu Island. He returned hometown during population exchange.
He was with eyeglasses, blonde hair, blue eyed and weak. He knew French. He was giving lessons to everybody. He was making his translations from French and his books his pillow. He had a book titled "Pirlepe Wars" translated from French. Perceiving the unfair accusations of the author about us, he changed these by saying "translator's note" and attached the truths. He made translations from Piyer Loti as well. Even he translated "Turkey in Agony" (Zavallı Türkiye), the manuscripts have been damaged throughout the circumstances of that time.
He joined Gallipoli War right after the Balkan War. Lieutenant Mehmet Fevzi Efendi died a martyr in Said Bair (Arıburnu) after having 12 wounds when he was in the 2nd Company, 1st Battalion, 77th Regiment, 19th Division, 3rd Army Corps of the 5th Army. He was at his 25. This regiment was under the command of Mustafa Kemal (Atatürk). He was a precious officer whose name recorded in handwriting by Atatürk in his Notebook.
During the Gallipoli War becoming ill he came to Bursa to his sister, he wanted to return as soon as recovered. Upon his brother-in-law says, "you are allowed, take a little more rest", he said "Uncle, I respect every order of yours but when it comes to duty, it is higher than you and everyone else. Indeed, I can never stop when war is on. This nation has raised me for these days." and returned to the front.
He was a very humble person. One day, while passing by the Bursa Government House together with his cousin, an elderly sentry stood to attention. "This old man is preparing to salute, do not want him to bother, there is no need to show off." he says, and they change their way.
When he was transferred from one place to another, he was practicing his prayers five times each in a different mosque of the place he was living in.